"What we were most interested in visiting Chiang Mai was trekking in the jungle. At this stage of our trip, around the sixth day, we had several temples in the curriculum. It war singing around a campfire, that gave the journey  another meaning. When we awoke up, on the day of leaving, the feeling that dominated was gratitude. These moments, by themselves, surpassed the best expectations for our trip. If you already know what to do in Chiang Mai but the time you have is a problem put a trekking in the top of your list."

André Vaz
Follow us on social Media
What to do in Chiang Mai, main attractions:
The city has the "Chiang Mai Intenational Airport", which operates several lowcost companies. You can also choose Chiang Mai as your point of entry or exit in Thailand.
The airport is close to the city center, just around 10 minutes by car.
Here are some examples, indicative of research done 3 months in advance, for the high season:
Bangkok to Chiang Mai: takes around 1.30h, for 1100 bath (30€ / $35), with Air asia;
Krabi to Chiang Mai: takes around 2 hours, for 1500 bath (40 € / $46), with Air asia;
Phuket to Chiang Mai: takes around 2h, for 1100 bath (30€ / $35) , with Air asia.
To check rates and book your flight, click here.
This was our exit option. A journey of about 13 hours on a sleeping train, from Chiang Mai to Bangkok. We paid about for 1500 bath (40 € / $46) but the experience was good. We ended up saving one night's accommodation, as a flight would cost about the same as the train ticket.
There are at least 6 daily connections from and to Bangkok, between 6am and 9pm. In spite of the many connections, tickets are often sold out, so we recommend that you book in advance.
The train station is the "Chiang Mai Railway station" and it is located the east side of the city.
To avoid waiting lines and surprises book your train ticket by click here.
It was by bus that we arrived in Chiang Mai. Coming from Sukhothai, the journey took about 6 hours, two of them standing. Despite this, it was quiet and the scenery made up for the rest.
We arrived at the "Arcade Bus Station", where the long-distance buses arrive. There are bus links to and from Bangkok between 6 am and 10 pm. Tickets cost around 550 bath ( 15€ / $17)  and the journey takes around 13 hours.
At Arcade Station you can take a local bus, a tuktuk or taxi to the city center.
If you want to go by bus to a place near Chiang Mai, the right station is the " Chang Phuak Bus Station", with connections to Chiang Rai, Mae and other destinations.
To avoid waiting lines and surprises book your train ticket by click here.
Knowing what to do in Chiang Mai and to get around in the city and outskirts you can take in the popular tuktuks, taxis and Uber. The latter is probably the right bet, without any detours or surprises. There are also several local buses operating in and out of town, ideal for those seeking a more genuine experience as well as spending as little money as possible.
Note: Please remember that the schedule and prices are indicative only. And because they are subject to change, we recommend that you check and see if they remain.
Where to stay in Chiang Mai:
To stay we suggest the old town (Chiang Mai's Old City). It is within the old city walls and is where most of the attractions are located.
Close to Temples, Markets and cheap lodgings, the area of Thapae Gate is the most popular. It has many options, for different budgets as well as good access. If You already what to do in Chiang Mai this area will show as an easy pick.
To help our project while you prepare your trip, use our affiliate Booking link to book your hotel, by clicking here.
No doubt that when we think about what to do in Chiang Mai, food is one of the main things. The cooking in this city is crazy, with lots of variety of Thai and Western restaurants, in addition to the usual street food. You will not have any problem finding a good place to eat, regardless of your taste and budget.
Be sure to try Khao soi, a noodle soup with curry and coconut.
Preparing your trip with our affiliate programs is a way to support our project and help it continue to grow. Booking through these programs, whether it's booking a hotel through Booking, World Nomads insurance, booking a flight, etc., means Backpackers Bay gets a commission, without you paying more for the service you contracted.
The affiliate programs we have selected and referred to below, or in our articles, are credible agents that we use in preparing our own travels and which we believe are among the best options in the travel market.
We hope, with our tips and referrals, to help each reader get even better holidays.
Book your flight with
Edreams
or
Rumbo
. Book your hotel with
Booking
or
Edreams
Get your travel insurance with
World Nomads
. Rent your car with
Europcar.
Find the best tours, anywhere in the world, with
Getyourguide
.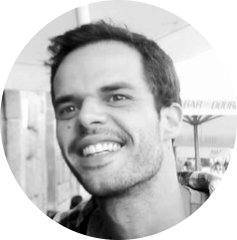 Nasci em 1982, cresci no Alentejo e, depois de 7 anos a viver em Coimbra, acabei por me estabelecer no Porto, onde vivo desde 2007.
Sou formado em filosofia mas, mais recentemente, estudei marketing digital. O que aprendi neste trajeto, aliado à paixão por viajar e pela partilha de experiências, motivou a criação e está na génese da Backpackers Bay. Um espaço onde vou partilhando as minhas experiências, algumas sugestões e dicas. Com o avançar do tempo espero conseguir cobrir todos os destinos que fui visitando, como a Tailândia, a Índia, o Cambodja, a Indonésia, a Tunísia, Marrocos, Espanha, França, Inglaterra, Suiça, Alemanha, Eslovénia, Grécia, Roménia, Bulgária, Turquia, entre outros, assim como aqueles que espero visitar no futuro.
Para além das viagens, sou um apaixonado por slackline. Aproveito para vos deixar um convite/desafio para conhecerem o meu outro blog: o All About Slackline e, quem sabe, para experimentarem a modalidade.
Boa Viagem…