[fusion_widget_area name="avada-custom-sidebar-angkoren" title_size="" title_color="" background_color="" padding_top="" padding_right="" padding_bottom="" padding_left="" hide_on_mobile="small-visibility,medium-visibility,large-visibility" class="" id="" /]
Angkor Wat, considered the largest religious monument in the world, is an unavoidable element of Cambodia'sidentity and is even represented on the country's flag. This UNESCO World Heritage Site, with an area of ​​200 km2, is a wonderful "world" full of old temples, true "treasures" scattered in a jungle with which they blend. But this is what we think.
Angkor Wat has a shifting history. Lost in the rainforest for centuries, its ruins are the remains and evidence of the grandeur of the Khmer empire, which had Angkor as its capital. Today it is one of the most visited places in Southeast Asia and the world, being a must go even for those visiting neighboring Vietnam and Thailand.
The construction of this complex began in the ninth century and flourished until the fifteenth century. The man to blaim would have been King Suryavarman II, the self-proclaimed "universal king," who fostered the building of the city as one that would become the capital and epicenter of his empire. It has become a prosperous city that was probably the largest of the preindustrial period, with about half a million inhabitants. Originally Hindu, it was converted to Buddhism through a history rich in transformation and conflict. In its decline, problems with the water supply system eventually determined a shadowy fate. The city was consumed by the forest and forgotten for centuries.
But eventually it was reborn to the world and to tourism, being one of the most fantastic places we know. It is a vast complex, full of surprises and treasures, undoubtedly one of the wonders of the world. And the best way to visit this ancient city, which is just 5 kms from Siem Reap, is by bikeor scooter, or even walking.
For this we must set aside two or three days to explore the trails that rip the forest and lead us to the ruins of which Angkor Watis part. Ruins of which it is part? !! Shuffled?! Actually Angkor Wat, the temple, is just one among the thousand temples that made up the ancient city of Angkor. That was the name the city. It turns out that the size and popularity of the main temple has made everything around it known by its name, Angkor Wat.
The main temples of Angkor Wat
Angkor Wat
It is the largest, the main temple and the one that best withstood the passage of time. Considered the largest religious structure in the world, it was the epicenter of the empire in governance and spirituality. Its name means precisely that: Angkor means capital and Wat means temple.
It consisted of the royal palace and a temple dedicated to the god Vishnu, also symbolizing Mount Meru, like many other temples in Southeast Asia. It is estimated that in its perimeter there were about twenty thousand inhabitants.
Beyond the majesty of the temple, where we can ramble for hours while admiring the building, its sculptures and prints, the Angkor Wat sunrise comes as one of its greatest appeals. Thousands of people converge on the shore of a lake, in front of the temple, to witness the colors and reflections of a memorable phenomenon.
The only point against this program is "just" the thousands of people that can not escape from. We have to be at the ticket office at5 am if we want to find a good seat. This means waking up around 4 am, leaving Siem Reap around 4.30 am.
Bayon Temple
The Bayon temple is one of the most popular and not only because of its large size. Situated in the center of Angkor Thom, whose meaning corresponds to the great capital. The temple itself has as its particularity the many imposing statues that populate it. In any direction we look, we find a magnificent work with over 1000 years of history.
These are massive images that decorate the towers of the temple's highest level, each of which has four faces. Built by King Jayavaram in the early 12th century, it underwent alterations at different times according to Hindu and Buddhist beliefs.
The best time to visit will be early, while the large crowds are still at Angkor Wat watching the sunrise. Making the Bayon Temple the first or first stopping point will be a good idea for one of the days. Either way, whether or not this is the option, Angkor Thom is only 3 kilometers from Angor Wat, about 5 minutes by scooter, 15 or 30 by bike, depending on the pace, but quite close.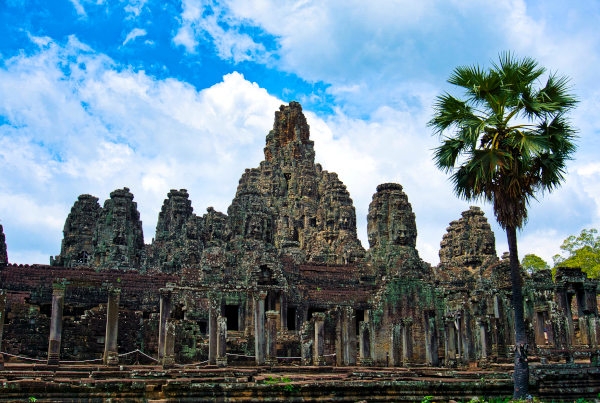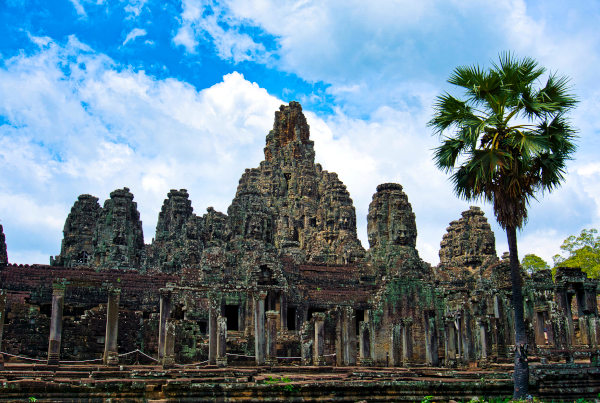 Ta Prohm Temple
This temple shares the style and is of the same height as the previous temple, having been built as a Buddhist shrine and university. It is distinguished among the generality of the temples of Angkor Wat because, after its rediscovery, it was kept practically as it was found.
In Ta Prohm it is noticeable why it was possible for something of Angkor's dimension to be lost and forgotten in time. We will find ruins consumed by the roots of large trees, which are no longer separable. It is an indescribable scenario but may even be familiar. Those who have seen the movieTom Rider, which was recorded there, should recognize the scenario.
Being one of the most popular in the whole complex, it should be visited between7 am and 8 am to avoid large crowds. If we have three days to explore everything, this should be, along with sunrise and the Bayon temple, one of the starting points.
Ta Prohm is 6 kms from Angkor Thom and 7 kms from Angkor Wat, about 10 minutes by scooter.
3 day itinerary in Angkor Wat
There are dozens of temples with appeals that justify a visit, and it is difficult to indicate which are the best, because it will depend a lot on what each one looks for. Whether we are looking for more imposing and popular touristic temples, or temples with less people. more exclusive and relaxed athmosphere.
Still we will list the main ones in a 3 day itinerary in Angkor Wat. We divided the most popular temples into three groups according to their proximity. However, consistent with the suggestion to visit the top and busiest when there are fewer tourists, we make one or another exception to this rule.
If we decide to hire a guide, we should try to set the route to avoid walking with the crowds.
Day 1 itinerary
We started the day around 4 am so we could get into the temple around 5 am. This is the best way to ensure a good place to watch the crowded sunrise. We are looking for a place near the lake for the best view possible. After sunrise we will visit the temple, which unfortunately will be overcrowded.
From there we go to the Ta Prohm Keltemple which is 1.2 kms, a 10 minute walk. It is a small ruin of a sanctuary that is worth stopping to see because it is right next door, on top of our path.
Baksei Chamkrongis one and a half kilometers from the previous temple. On foot we took about 15 minutes, by bike about 5 and even less scooter.
This relatively tenth-century shrine, which was relatively structured, was dedicated to Shiva and was originally Hindu.
Despite being near the entrance to Angkor Thom, given that the sunrise crowd is heading there, we reversed the direction we left the Angkor Tom and Bayon temple for early the next day.
Just 500 meters away, we find the next stopping point, the 9th century Phnon Bakheng. The image of the previous temple is also dedicated to Shiva but, At some point in its history, it will have been converted to Buddhism. This temple, which sits on top of a small elevation, is said to have the shape of a mountain and is very popular when the sun goes down.
Now that we have reversed to escape the crowd, we jump into another area of ​​the complex. We make 8 km, which takes about 10 minutes by scooter or tuktuk and a little more by bike, to reach the Kravan temple. These 10th-century ruins consist of 5 reddish towers.
After Krava we stopped 2 kms away at the Banteay Kdei temple. It is just 5 minutes by scooter and a little more by bike. It is a 12th century Buddhist temple, not unlike the popular Ta Prohm.
Right next door, less than 1 km away, we find Srah Srang. It is a huge reservoir of water, excavated in the tenth century, and guarded by the surrounding forest and two small lion statues.
Day 2 itinerary in Angkor Wat
The second day should start early. Enjoy while everyone watches the sunrise and visit the most popular temples, yet no tourists.
So we start with the famous Ta Prohm, known for the tree that embraces a ruined temple and for being the setting of one of the Tomb Rider films.
We can enjoy a bit if we arrive around 8pm, but we shouldn't waste too much time getting to the Bayon Temple before 7.30am.
Ta Keo is a temple built in sandstone that imposes itself by its height. Built in the tenth century, it has several floors and 5 towers that functioned as temples. Without a doubt it is worth while as we travel from Ta Prohm to Angkor Tom, stop for 10 minutes to climb to the top and enjoy the surroundings.
It is less than 2 kms from Ta Prohm, less than five minutes by scooter, and a little more by bike.
The next stop, less than 1 km away, is the Thommanon Temple. This Hindu temple, which precedes the entrance to Angkor Tom, dates from the 12th century and is relatively well preserved. It's a place not to waste too much time … Just to take some pictures …
500 meters later, on our way to the Bayon Temple, we pass Victory Gate, a beautiful structure that marks the entrance to Angkor Tom, and deserves some good photography.
From there we ran to the Bayon Temple, even before the large crowds arrived. It means it's not yet 7.30am and we can enjoy the famous statues that point in all directions.
Baphuon is one of the large temples on the perimeter of Angkor Tom. This 11th century structure will be the first stop after the Bayon temple. It is about10 minutes walking and much less by bike or scooter.
It is an imposing temple, with several levels, which raise it to 25 meters high. It is one of the religious structures in Angkor Wat that represent Mount Meru, the "abode of the gods" In addition, it will have been a place of worship of Shiva.
Beside it is a large lake which, if it is between us and the temple, invites a beautiful photograph.
Less than 5 minutes away we find Phimeanakas. It is a large temple, shaped like a pyramid, that rises from level to level. It is believed to have been of great importance and often used by royalty.
Then we followed another 750 meters and found Prasat Suor Prat, a dozen towers lined on one side of the royal square. Built in sandstone, they are situated near the Terrace of the Elephants and the Terrace of the Leper King. They are known as the tightrope dancer towers and who they are is not the origin of slackline.
At 270 meters, within the perimeter of Angkor Tom, we find the Terrace of the Elephants. It is a stage from which the king watched military parades and other major events or ceremonies. The 350 meter structure is very ornate and the main motif or highlight, of course, is the elephant. It's worth stopping by and taking a look.
O Terrace of the Leper King está muito próximo às duas anteriores paragens, a cerca de 100 metros da última. It was built at the height of the Bayon temple, sharing its architectural style. It is worth going through this place to appreciate the way the stone was crafted.
The name by which it is known is related to a statue that was found at that location. This, about 5 centuries newer than the Terrace of the Leper King, by wear and erosion, appeared to represent a leper man. It is also associated with the legend of a king who would also be a leper.
Preah Pithu is set of ruins of 5 temples. The structures are beautiful, most of them in Angkor Wat, with the stone very well crafted. However, what makes this place interesting is the tranquil atmosphere and without the crowds of other temples. Passing by there is likely to find some monks.
Day 3 Itinerary in Angkor Wat
The third day, which will start in East Mebon, will be more relaxed, with more time to enjoy the less beaten trails and get off the set route.
The starting point is a large, 10th-century temple at the eastern end of the complex. Originally surrounded by a now dry water reservoir, it is dedicated to Shiva, where the well-preserved towers and a beautiful image of an elephant stand out.
The second stop is Ta Som, which is about 2.5 km away and takes less than 10 minutes by scooter, a little more by bike and about 20 minutes to walk well.
It is a 12th century temple that has not been completely restored, resembling the popular Ta Prohm. In this sanctuary, located northeast of central Angkor Wat, we can find the emblematic trees that grow embracing the ruins. The big advantage is the number of tourists who visit it, relatively small in the general context of the historic park.
Another 2 kms and we find Neak Pean, an artificial island with a Buddhist temple. This was used as a hospital and for therapeutic purposes. Hindu mythology and beliefs, which underlie Buddhism, postulate that the balance between the elements (water, earth, fire, and wind) benefits health.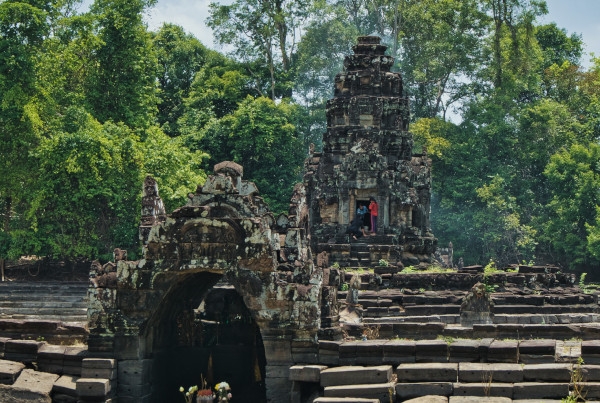 We walked another 5 minutes by scooter, about 10 by bike and found the small Banteay Prei temple. This small sanctuary would not warrant a visit if it were not a slight detour from our route. On the way we will still find, on our left, the little Prasat Prei. Anyway we can enjoy the absence of tourists and enjoy a little tranquility while we record the moment with some photos.
Heading south, less than 2 kms, we find the Preah Kan temple. This 12th century shrine is massive and mixes Buddhist elements in its central temple with some Hindu elements that populate its periphery. It has an architecture similar to Ta Prohm and, in its image, is not completely restored.
A última paragem de este roteiro de 3 dias será Ta Nei. This temple is 2.5 km away, about a 20-minute walk.This temple is among the least visited in Angkor Wat, as it is set back from the main road and needs to travel a short path to get there.
É um santuário budista do século XII, muito recatado e ideal para finalmente parar e desfrutar, sem pressas, do ambiente de Angkor.
From here, if time is left and we still have legs, we can explore the many less beaten paths and areas. Alternatively, if we haven't explored Siem Reap yet and Ton Le Sap Lake, it's time!
Angkor Wat Timmings
Most of the temples can be visited between 7.30am and 5.30pm. But there are some that can be visited at other times:
The Angkor Wat temple and Srah Srang can be visited from 5 am and also close at 5:30 pm;
Pre Rup and Phnom Bakheng can be visited from 5 am to 7 pm to allow sunrise and sunset views.
Angkor Wat Tickets Price
Tickets to visit the complex are quite expensive but worth the investment. we can choose between a one day ticket and 3 and 7 day passes:
The daily ticket costs 33 €.
The 3 day pass costs 55 €,.
The 7 day pass costs 65 €,
Angkor Wat Tours
Unsurprisingly, Angkor has a very rich history. It's worth it, if only on one of our days, to hire a guide or tour to help us contextualize and unite the points between so many historical and religious details. Understand the symbolisms and transformations that elevated and destroyed such an advanced civilization.
There are many tours and early bookingcan prevent some last minute surprises, especially when we talk about such busy tourist attractions. Getyourguidemakes it easy to find the best options by reviewing and commenting on each tour, and many allow cancellation until the day before. We can check all the options here and if we happen to book through the Backpackers Bay affiliate link we help the blog without paying more for it.
Dresscode
Given that we are going to visit temples we should, as is customary in Southeast Asia,cover the chest and legs until the knees. On the other hand, we must take into account that from 10 am the heat becomes intense. You should find a solution that respects local customs but is still fresh.
We should wear comfortable shoes as we will spend a lot of time standing, walking and eventually cycling. And finally, bring a hat to protect the head.
Where to stay in Angkor Wat
Aqui não há dúvidas. The best alternative is tochoose a hotel in Siem Reap. Prices start at 2 € per night in acceptable hostage rooms, and range up to the several hundred euros they charge for the many upscale hotels in town.
The city is only 5 kms from Angkor and it is very easy to get there in many ways.
How to go to Angkor Wat
The journey from Siem Reap to Angkor is very short, about 5 kms. You can get there in less than 10 minutes, either bytaxi, tuktuk or scooter. Although negotiable, the price of the first two options will run at 5 €, about 20 reais. Scooter will depend on the rental price we get.
An alternative is to go by bike, which takes about 30 or 40 minutes but is well worth it. We made this trip on one of the days we were there and loved it. It was a dive into the daily lives of Cambodians who, every day, live with crazy traffic and an almost total absence of rules.
Preparing your trip with our affiliate programs is a way to support our project and help it continue to grow. Booking through these programs, whether it's booking a hotel through Booking, World Nomads insurance, booking a flight, etc., means Backpackers Bay gets a commission, without you paying more for the service you contracted.
The affiliate programs we have selected and referred to below, or in our articles, are credible agents that we use in preparing our own travels and which we believe are among the best options in the travel market.
We hope, with our tips and referrals, to help each reader get even better holidays.
Book your flight with
Edreams
or
Rumbo
. Book your hotel with
Booking
or
Edreams
Get your travel insurance with
World Nomads
. Rent your car with
Europcar.
Find the best tours, anywhere in the world, with
Getyourguide
.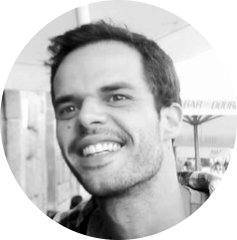 Nasci em 1982, cresci no Alentejo e, depois de 7 anos a viver em Coimbra, acabei por me estabelecer no Porto, onde vivo desde 2007.
Sou formado em filosofia mas, mais recentemente, estudei marketing digital. O que aprendi neste trajeto, aliado à paixão por viajar e pela partilha de experiências, motivou a criação e está na génese da Backpackers Bay. Um espaço onde vou partilhando as minhas experiências, algumas sugestões e dicas. Com o avançar do tempo espero conseguir cobrir todos os destinos que fui visitando, como a Tailândia, a Índia, o Cambodja, a Indonésia, a Tunísia, Marrocos, Espanha, França, Inglaterra, Suiça, Alemanha, Eslovénia, Grécia, Roménia, Bulgária, Turquia, entre outros, assim como aqueles que espero visitar no futuro.
Para além das viagens, sou um apaixonado por slackline. Aproveito para vos deixar um convite/desafio para conhecerem o meu outro blog: o All About Slackline e, quem sabe, para experimentarem a modalidade.
Boa Viagem…